Infrared Inspections
Infrared inspections utilize an infrared camera, which detect temperature differences at the surface of materials. This can be critical for spotting defects that the human eye can not always see, such as loose or overloaded electrical connections, water leaks, inoperable radiant heating, and insulation deficiencies. It is important to note that infrared cameras are not able to see through building materials. Also, in order to accurately find areas where the outside air is penetrating into the home, there needs to be a minimum temperature difference of 18 degrees Fahrenheit between the interior conditioned air and the exterior unconditioned air.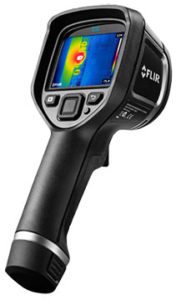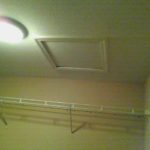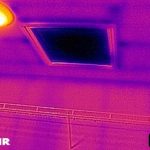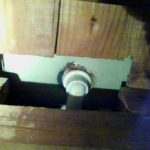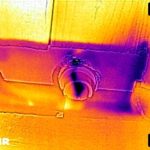 The above pictures are of an all-to-often missed location for insulation - the attic access. By not insulating the access properly the non-conditioned attic air is mixed with the conditioned air within the house. An infrared camera can easily spot this without getting a ladder out. Even accesses that appear to be insulated may have gaps where the hatch meets the trim.
These pictures are of the underside of a bathtub drain, as seen from the basement. The easily observable issue is the notched joist, but the other problem of a leaking pipe was not caught during the visual inspection. During the infrared inspection it was noticed that there is a line of purple coming down from the PVC connection to the bathtub and where it makes a bend at the joist. The inspector then used a moisture meter to confirm there was a slow active leak at the drain.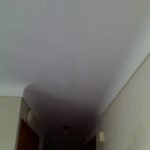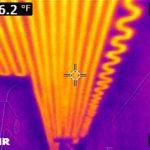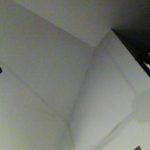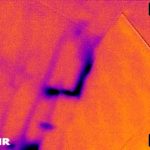 Infrared imaging can be used to inspect radiant heating, such as the above pictured radiant ceiling heat. A visual inspection makes it tough to accurately determine that all the zones are working as expected, but the infrared camera makes short work of this job.
The two above pictures were taken while standing in the family room and looking up at the cathedral ceiling. Nothing looks out of place visually, but the infrared camera tells a different story. There is a blue line that makes a backwards "L" in the middle of the picture. This could mean a few things, such as missing insulation or a water leak. After further investigating it was found that this was indeed a water leak, which had been caused by a rusted nail on the roof. Without an infrared camera the leak would not have been caught until after the water caused visual damage.